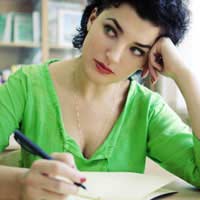 Having judged several writing contests in the last couple of years, I find myself wanting to share how to avoid the common things that make a judge put your piece in the "no" pile, or even the maybe pile, and select others as winners.
There are two factors in how contests are judged—and the first one is subjectivity. Different voices, topics, and language appeal to one reader more than another.
But apart from subjectivity, the top reason for passing over a manuscript comes down to craft for most judges—the craft of writing and the care the person gives the presentation of his work.
What I look for:
First, I notice if the person understands the basics of submission—does the writer use double spaces; does she have the correct indentations and paragraph formatting. Is punctuation correct or within the realms of correct usage?
My pet peeves: does the writer know the difference between it's and its, you're and your.
What kind of language and voice carries the piece, and is it appropriate for the topic? You can use a sardonic voice to talk about grief, but it needs to work throughout the piece as a whole.
Correct use of verbs, and not an overuse of adjectives and adverbs. If you don't know what those are, you are not ready to submit for publication.
It's best to use active verbs and not get stuck in forms of the verb "to be." This means an active verb instead of "is", as in "there is," and "I am."
Several adjectives strung together are too many when describing something. Contain your description to one modifier, or at the most two. Play with your sentences to get them to work better.
Subject and object verb agreement, a sense of modifying phrases and how well they can layer a piece, and the clear presentation of character, motivation, and scene.
Though memoir is about memory and personal reflection, for a piece to work best it needs to take the reader beyond "this is my memory." It needs to offer something to the reader beyond simple memory, and evoke a feeling in readers—something that makes them remember a significant event in their own life too, or some way to connect with the writer on a deeper level. It might be a spiritual reflection, it might be a very personal story that evokes deep feelings because of language and voice.
The piece should capture my imagination, and the plot and point of it should develop throughout the story. And it should be a story—it should develop through using tension, it should have a point and that aha moment, a significant moment of change that connects the writer to the reader on a universal level.
Some "pure" memory pieces are like poetic prose, and are not a story as such, but because of poetic language, the reflection launches me into the full imaginative world of the writer. While I'm there, I experience my own insights and connections with that particular place and time. Many writers find it hard to be successful at a less real-world approach. Beginning writers need to take the reader into a grounded story form, and show us a new world that we've never seen before.
Tips:
Start your piece with a great first line or paragraph—whether it is poetic, or suspenseful, or dramatic. Get the reader's attention at the beginning and they will be more willing to read the whole page.
The trick is: get the reader to keep reading. I can tell by a first paragraph and then the first page if I want to keep reading. To be fair in a contest, I do keep reading, just in case the story improves or there are some surprises, but often I make an early set of first choices based on the first page, and then go back to make sure I am being fair.
The epiphany needs to deliver. If you simply make a list of this thing happening to you, and then another event, it won't interest anyone but you and your immediate family—they care about you already. If you want to share those memories with the larger world, make them interesting, and make us, the other objective readers, care immediately too. Turn your favorite memories into a story about someone the reader cares about and identifies with, and follow the rules of structure and plot.
Make promises through style and voice early in the piece that you will deliver later—show us that you are in control of your material and know what you are doing. That comes across when a stranger reads your piece.
Write, rewrite, edit, and rewrite again and again. Care enough to make it perfect, know the rules of grammar, spelling, and punctuation. After all, you expect a carpenter to know how a saw works, and the nature of the wood and its characteristics. Craft matters in writing, especially for contests and publication.
There is lots of competition in the world of writing, but I have several students who have won multiple times. They have lost contests too, but they keep on entering. You have no chance if you do not enter. I have judged contests where in the set of manuscripts, one person may stand out compared to the others, but in another contest they might not. You don't know the level of writing you might compete with, so give it a try. You may rise to the top too.
Share your writing with other writers, your mentor, your workshop leader, and at conferences. The more you put it in the world, the more you will learn.
Now sit down and get busy. Try for 500-1000 words a day. Keep writing!
Share and Enjoy: